ADHD Parent Information Day September 26th, 2016 , 8:30 am to 2:30 pm
This session is an introduction to aspects of ADHD parents need to know to understand and manage their child's behaviour, liaise with professionals effectively, and promote a
positive family environment. We welcome you on behalf of the co-sponsoring organizations: Ministry of Children and Family Development, School District #61, Children's Health Foundation of Vancouver Island, Island Health, and the FORCE Society for Kids' Mental Health.
Location: Queen Alexander Auditorium,  2400 Arbutus Road, Victoria,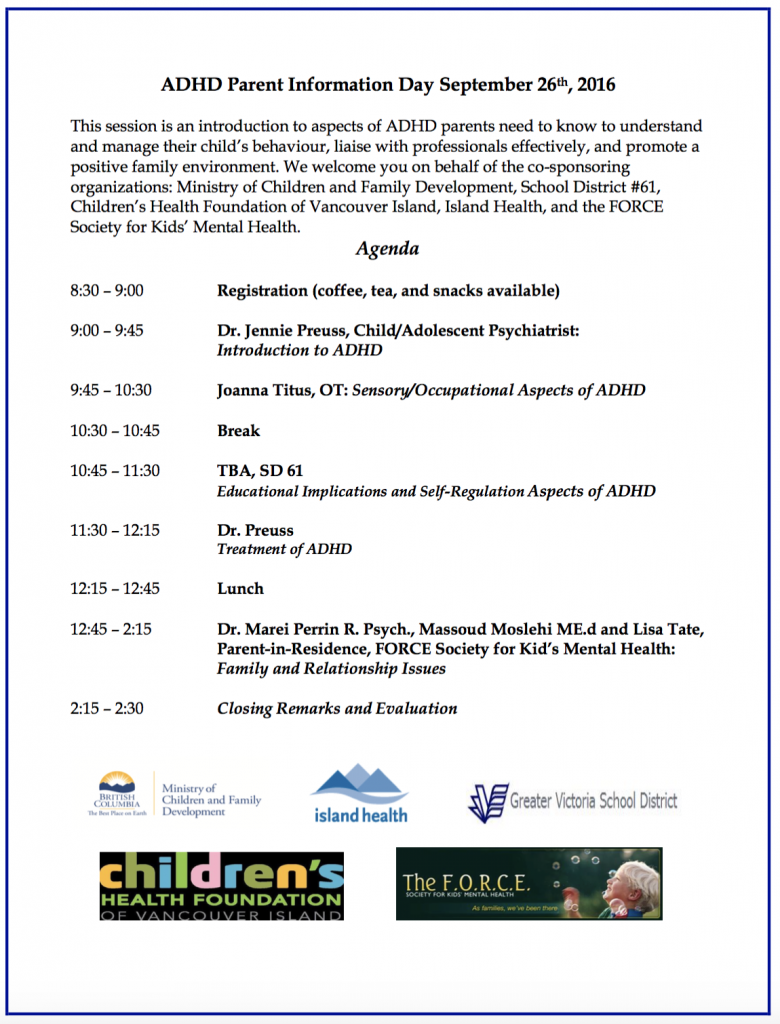 This event is free and to register please email  LisaT@forcesociety.com
By donation only. PAC will sell popcorn.
Welcome back everyone!
We have had a fantastic first week with lots of smiles and stories.  Many new students have joined our community this year and it has been delightful to watch old friendships rekindle while new friendships develop.  It is certainly busy to be part of this growing school and we are committed to keeping everyone connected through regular communication.  Please also feel free to visit our website as it is updated regularly with news of learning, celebrations, activities and informational items.
This year's Kindergarten students will begin their school journey during the second week of school.
Looking forward to a year of possibility and endless opportunity,
Karen
We have had a garden that grows not just aphids….but lots and lots of vegetables and even sunflowers.
| | | |
| --- | --- | --- |
| broccoli | purple bean | sunflower |
| cauliflower | kale | pumpkins |
This summer, our garden will be watered by a family each week who have kindly volunteered.
Thank you families for keeping our garden growing. We can't wait to see it in September!
(Please visit our garden page under programs to see how this all got started)
What a wonderful day for everyone at Happy Valley! Our staff decided to join on our students in play during recess " flash mob" style. The students couldn't believe their eyes! What were all these adults doing on the slides, monkey bars, swing sets, playing tetherball and skipping?"
There were smiles ear to ear for everyone as we spent time connecting and continuing to build relationships. The question from the students as they left the playground-"Are you guys coming out to play tomorrow?".
Enjoy your summer playing with your children- we know we sure did!
What a perfect way to end the school year.
Take care and we will see you in September!
Karen