Thank you for a wonderful five years at Happy Valley!  It has been extraordinary, but it is now time to pass on the reins to your new principal, Mrs. Karen Sjerven.  The school office will be closed as of Monday, July 10th at 2:30, reopening on August 28th, at 8:00 am.  All inquiries can be directed to Mrs. Sjerven, Mrs. Laughton or Ms. Lea.  It is going to be an incredible new team!
We will have 19 divisions next year.  Yes, we just keep growing.  We will be using the portable at the back of the school once again, as well as adding another portable right beside it.  We are hopeful that this will all be in place for school start up, but don't worry we are prepared if the project is slightly delayed.
Most of our staff is staying with us in the fall with a few exceptions.  We would like to send a heartfelt thank you and congratulations to Mrs. Argyle as she begins a new stage of her life –RETIREMENT!  Mrs. Argyle has been an important and long standing member of Happy Valley who will be missed by many, and remembered by all.  Mr. Robertson is moving on to counselling positions at other schools in our District.  He too will be deeply missed.  Good luck in your new role- we know you will help all the children you work with as a counsellor.   Mrs. Gleave,  Ms. Sobkowicz, Ms. Lefsrud, Mrs. Dwyer, Mr. Morphy, Ms. Coombes and Ms. Bryant all came to our school last year and added so much to the culture of our school.  They are headed off to new adventures in other schools and we wish them the very best.  Thank you for your contributions.  Jamie and Skye came to us as EAs during the year and the children they worked with were so lucky them as their mentors and supports.  We hope to see you back working with our students once again.
We will see some new and some familiar faces in the fall.  Mrs. Anderson (formerly Ms. Stracker), Mrs. Andrew, Ms. Mathews, Mr. Borland, and Ms. Berenyi will all be joining the FABULOUSLY TALENTED Happy Valley Team.  Welcome to our school.
The new outdoor classroom will be ready for our Meet the Teacher and Fall Fair Celebration on September 21st.  The tables will be installed around the garden just in time for you all to gather and meet each other as a new community.
Please remember to check our website regularly for updated information about dates.  If you are new to our school in the fall, please come to the office the first day and we will direct you to your group.  If you are a returning student, you will line up in your usual spot and go back to your old classroom for the first few days.  All new students will join together as intermediates or primaries until we move into classes for the 17/18 year.
Here are a few important dates to jot down for the fall as we leave for the summer.
September 5 – First day back for Grades 1-5.  Dismissal at 11:26
September 11th– half day Kindergarten
September 12th– half day Kindergarten
September 12th – PAC MEETING 6:30
September 13th– First full day Kindergarten
September 18th– Planning Day- no school
September 21st – Meet the Teacher/Fall Fair Celebration
September 26th–  Class Pictures
Well, that's it folks…..
Thank you once again for this very special time in my life.  Thank you to the staff of Happy Valley for all that you have done for me and for the students of this school.
Welcome to Mrs. Sjerven!  You are going to love it here.
Take care,
Karen
Jayke's logo design was the winner for the Westshore Aboriginal Day contest!
The winning logo is featured on the front of the bag.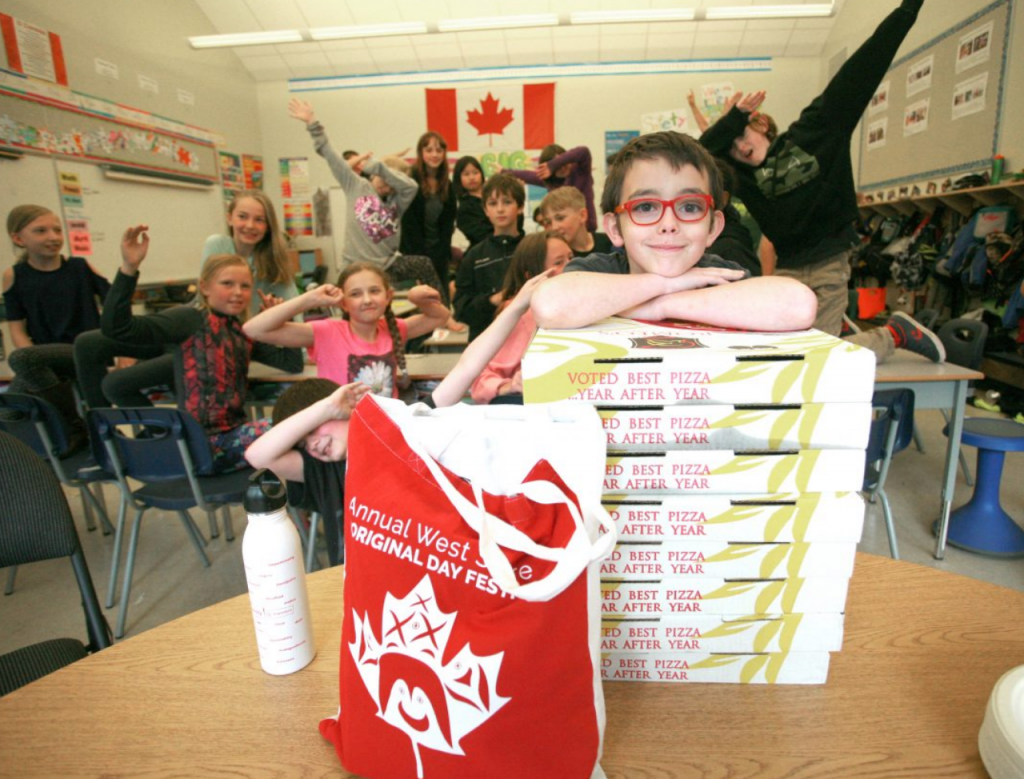 Students in Mr. Johnson's grade 5 classroom received pizza as part of the prize.
Happy Valley School's recycling program  placed 3rd in the annual Encorp School Return – It Contest.
We collected 49, 303 beverage containers!
Thank you to the Happy Valley Recycling Team who collected every school day.
To Alpine Disposal and Recycling folks who did a pick up every Friday…it was very much appreciated!
To the bottle drives held by the Grade 5's and to the parents who dropped off their empties in the Alpine Beverage Recycle bin at the school.